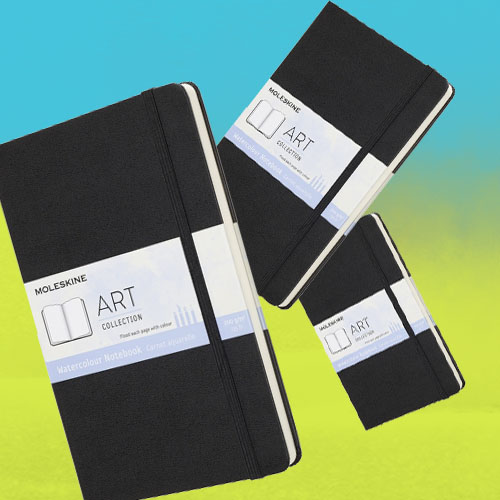 My new Moleskin watercolor journal
If you've been following along our journey this year, you'll remember that my husband and I got heavily into watercolor. We are not necessarily good at watercolor, we just really enjoy it! One of my little lifetime fantasies was to keep a watercolor journal of all the places we travel to and I am thrilled to say that I have filled a whole journal and am now in need of new notebook. How awesome is that?!
When looking for an ideal notebook, I'm not really concerned with finding anything expensive or fancy, but I do want something that has good quality cold pressed, non-porous paper, is conveniently portable and can easily fit into a small bag and preferably is not square (just a personal preference).
Moleskin has a stellar reputation, great reviews from pro artists and amateurs alike and fills every requirement! We are always looking for that elusive ideal notebook – one where the pages lay down flat without too much wrestling or where the cover doesn't fall apart with a lot of use and especially one that doesn't let the colors bleed, and this little beauty just may be the winner!
Given the situation with the pandemic, a lot of our international and broader travel was put on hold, but we have some pretty epic plans for rediscovering the beauty and wonder of home state of Arizona, so I'm thinking I'll call this my personal Desert Dream Collection Notebook, inspired by one of my favorite local artists, Pink Puddle Studio! Check out her work if you get a chance and see what I'm aspiring (and so far failing) to create! LOL